Play About Legendary Screen Star Runs Until May 14 At The Geffen Playhouse
By Beverly Cohn
Ava Gardner, born Ava Lavinia Gardner in the small town of Grabtown, North Carolina eventually became one of the most stunning, talented actresses during the Golden Age of Hollywood. She married three of the most famous men of the era beginning with Mickey Rooney, followed by Artie Shaw, and finally, Frank Sinatra, whom she considered to be the love of her life. She also had a stormy relationship with Howard Hughes.
Some of Miss Gardner's most memorable films include Show Boat, The Snows of Kilimanjaro, Knights of the Round Table, The Barefoot Contessa, Bhowani Junction, The Sun Also Rises, On the Beach, The Cassandra Crossing, and Mogambo for which she received an Academy Award nomination.
Putting together a theatrical piece incorporating her life at one particularly challenging time is no easy task and yet Elizabeth McGovern not only wrote the compelling script, Ava: The Secret Conversations, based on the book by Ava Gardner and Peter Evans, but also assumes the role of one of the most iconic women of her time and delivers a tour-de-force performance, digging deeply into Gardner's psyche. You might remember McGovern most recently for her role as Lady Cora in the extraordinary "Downton Abbey" series where she played the steady guiding light of her sometimes dysfunctional family. These two characters couldn't be further apart in their specific complexities, but McGovern nails the superstar Ava from the opening beat of the play.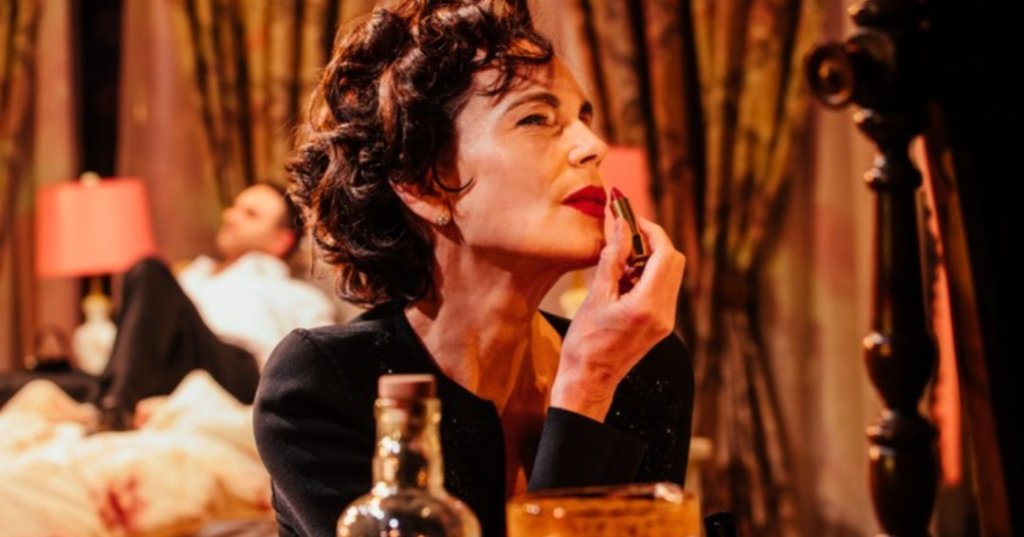 Under Moritz von Stuelpnagel's absolutely perfect direction, we first meet Ava in her beautiful hotel suite nicely designed by David Meyer. She is recovering from a stroke and one hand is partially paralyzed. She has fallen on economic hard times and needing money, calls journalist Peter Evans, wonderfully played by Aaron Costa Ganis, to see if he would be interested in collaborating on her autobiography. She tells him it's either selling her jewelry or writing a book, adding "I'm sentimental about my jewelry." The writer is rather awestruck by this famous movie star and it takes him a while to get over his enchantment with who she is and then the collaboration dance begins.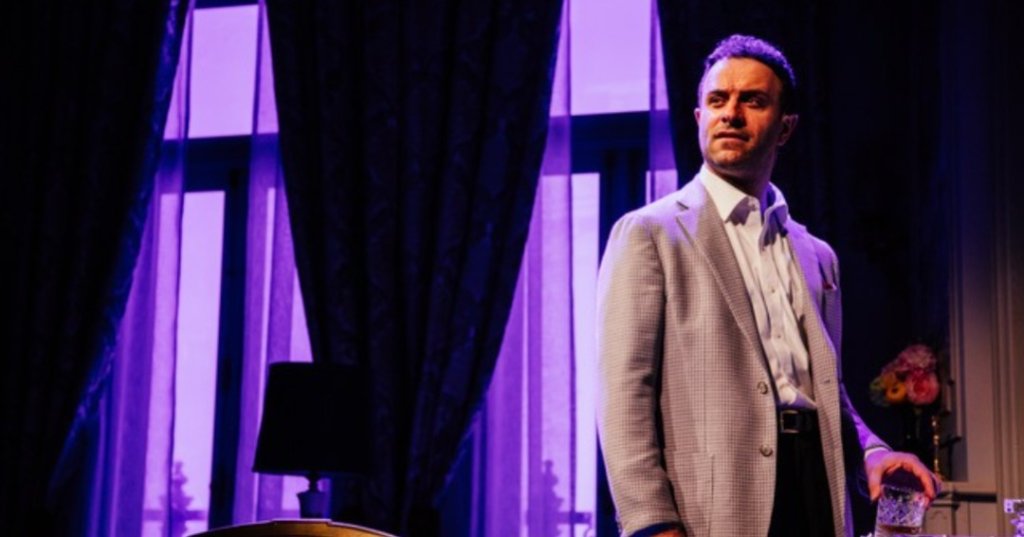 Ava is unsure of exactly what she wants to reveal and tries skirting around parts of her life that she doesn't wish to have incorporated into the book and asks him if they could just make everything up. As Ava talks about her different husbands, beginning with Mickey Rooney, who she married at the age of 19, Costa Ganis seamlessly transitions into the different husbands depicting Rooney as a rather silly young man who insists that the gorgeous starlet marry him on their very first meeting. That marriage lasted a year, as did her marriage to Artie Shaw, who asked, "Do you mind if I go to Mexico and get a quickie divorce?"
Ava reminisces about some of her films, referring to The Barefoot Contessa as "A piece of shit." In between scenes with Ava, Peter discusses the project with his agent, Ed Victor, played by unseen actor Ryan W. Garcia, who gives him ongoing instructions on how to complete this book project. During the writing sessions, her language is sprinkled heavily with "f" bombs which she asks that her biographer removes from the book.
During one of their conversations, Peter says, "Is it true you turned down the role of Mrs. Robinson?" She makes up an excuse as to why she made that choice. When the subject of Sinatra comes up, there are rear screen projections of the iconic singer designed by Alex Basco Koch, and we hear "Fly Me To The Moon."
Throughout the play, there are germane sound designs by the always spot-on Cricket S. Myers. When asked about what happened to that marriage, which lasted for six years, Ava confesses, "I couldn't be the woman Frank wanted me to be." Throughout this one-act play, dressed in Costume Designer Toni Leslie's exquisite costumes, and flattering lighting by Amith Chandrashaker, Ava drinks, smokes and slithers about the stage like a cunning feline.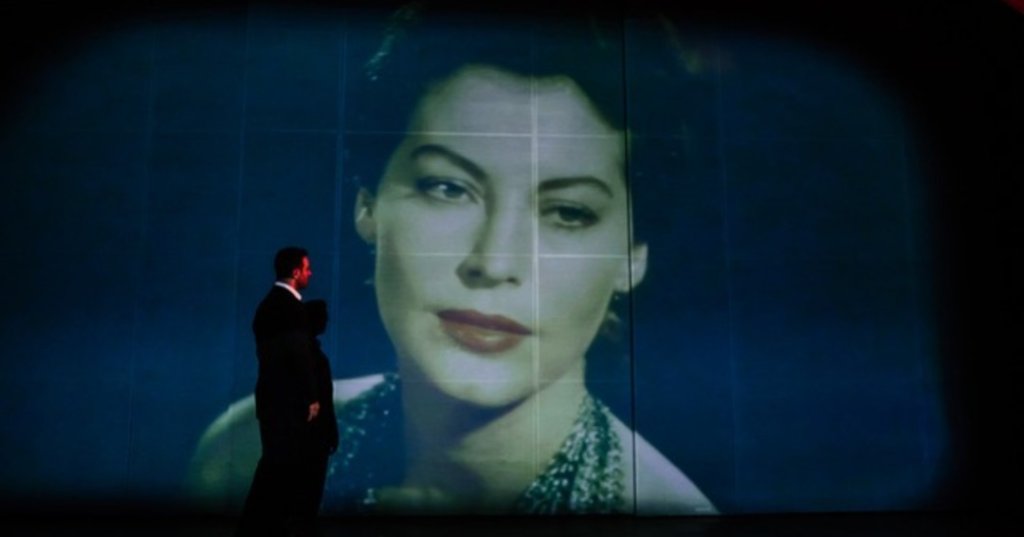 The most talented Miss McGovern mines the multiple complex layers of her character, capturing the irony and wit of this legend an example of which, while refilling her never-left empty glass of alcohol quips, "I feel sorry for people who don't drink." As Peter spends more and more time with her, he begins to examine his own life and comes to the conclusion that he is not happy and doesn't even know what that feels like.
While the emphasis is on Ava's story, Peter Evans emerges as an equally interesting character with his own pathology and personality. This play is basically a two-hander, but you couldn't ask for a better pairing of actors to portray the complex life and times of one of the most revered Hollywood actresses culminate in an enchanting evening of theatre.
AVA: THE SECRET CONVERSATIONS
Gil Cates Theatre
The Geffen Playhouse
10886 Le Conte Avenue
Los Angeles: CA 90024
Written by: Elizabeth McGovern
Directed by: Moritz von Stuelpnagel
Run: Tuesday – Friday: 7:00 pm, Saturday: 2:00 pm & 7:00 pm, Sunday: 1:00 & 6:00 pm
Closing: Sunday, May 14, 2023
Running Time: 90 Minutes
No Intermission
Tickets: $30 – $129
310.208.2028 or
www.geffenplayhouse.org
Warning:
Strong Herbal Cigarette Smoke
Content Advisory: This production contains profanity, sexual themes